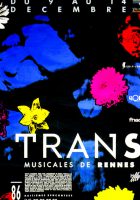 1986
8èmes Rencontres Trans Musicales de Rennes
EDITO
Un melting pot qui va de la musique industrielle du groupe extrémiste « TEST DEPARTMENT » au swing allumé de l'accordéoniste SLIM, du hard psyché de « ZODIAC MINDWARP » au Pop Rock de « THAT PETROL EMOTION » : du nouveau groupe de Jean-Jacques BURNEL « THE PURPLE HELMETS » avec Laurent SINCLAIR et John ELLIS, au groupe New-Yorkais « PIANOSAURUS » dont les instruments sont des jouets d'enfants. De nuits à thèmes comme celle d'Etienne DAHO entouré de tous ses amis pour la dernière date de sa tournée, à la « FIESTA BERURIERE » en passant par « LA NUIT DU SWING ET DE LA DANSE ».
Les TRANS MUSICALES, une multitude de lieux de rencontres pour une programmation éclectique, unique et inédite. De plus l'image rock investira pour la première fois la ville : KIKI PICASSO, CARO, BLEK, MISSTIC, MARIE ROUFFET, RICHARD DUMAS provoqueront au quotidien. Depuis M.D.S. en 79 à S.S.S. en 85, nous étions sur tous les paris. Quelles seront les révélations de 86 ? A VOUS DE JUGER !
DAHO est là avec ses amis. La cité regorge de découvertes. L 'UBU se réserve pour la fête totale.
Les TRANS : tous les sons du ROCK… Pour 87 BILL BAXTER, musicale comédie Embrasse-moi idiot. LA NUIT SWING (pour toutes les oreilles) à ne manquer sous aucun prétexte… LA FIESTA BERURIERE, la pêche totale. LA NUIT DU 10 pour les connaisseurs (pensez donc TEST DEP pour la première fois en France, … et J.J. BURNEL !) LA FIEVRE du jeudi soir pour les passionnés les vrais (oubliez le TOP 50, les TRANS se méritent) LA NUIT DIVINE du 13 (si vous n'y êtes pas, on ne peut plus rien pour vous) et les CADEAUX TRANS : l'UBU tous les soirs… une affaire de PRIVILEGIES… après minuit.
mar

9 Déc

mer

10 Déc

jeu

11 Déc

ven

12 Déc

sam

13 Déc

dim

14 Déc
Salle Omnisports
La Cité
Ubu
FNAC